Discover more from Life from the Road Magazine
A traveling lifestyle newsletter for adventurous couples, digital nomads, and modern day hippies.
Advice for Visiting Schlitterbahn New Braunfels.
If you're wanting to spend some time in the water at Schlitterbahn we have some great advice for you!
If you love summertime and enjoy spending time in the water, Schlitterbahn New Braunfels should be on your list when traveling full-time. Located in the town of New Braunfels, this incredible water park offers lots of fun for adventurous couples!
Donetta and I spent two weeks soaking in the sun and playing in the cool water recently. Here's what we experienced and what we recommend for getting the most from your visit.
What to Expect at Schlitterbahn New Braunfels
Since our goal is avoiding large crowds and stupid people, we always try to visit high traffic places before or after the busy season. When we arrived at this water park in mid-August, it was perfect timing for most of our activities.
Visiting on the week days was fantastic because there were fewer people and certainly fewer screaming kids -- which is WAY better for couples seeking to escape reality for a while. The vibe was more relaxing and intimate, while allowing us to float endless hours in the lazy river without ongoing disturbances. The downside of visiting during the week in off-season is not all rides are available.
The weekends were still crazy! Arriving later than the opening time guaranteed long waits for your favorite rides, which could last an hour or more. Plus there were throngs of annoying people to deal with, increasing levels of stress and anxiety.
If you have anger issues, avoid visiting Schlitterbahn New Braunfels on the weekend or you might find yourself throat punching the person next to you.
What Did We Do?
Most of our time was invested in floating the Kristal River and Torrent River. This is the best way to engage in meaningful or romantic conversations while basking in the sun. If you indulge in your favorite adult beverage before jumping in, you'll discover a relaxing journey ahead.
There are also plenty of beach areas where you can grab a spot if you're early to the party. These areas fill up FAST so don't show up too late or you'll spend an eternity walking around with no place to sit.
Donetta and I also went on the Bahnzai Pipeline, Black Knight, Master Blaster Uphill Water Coaster, Cliffhanger Tube Chute, and The Falls. While we had to wait in line for an hour or more for a couple rides, it was worth the smiles and laughs. Especially on the Master Blaster!
Other than that we just watched people and got our tan on.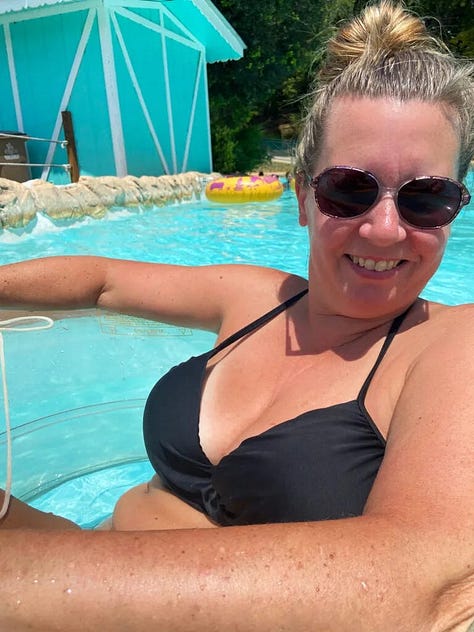 Advice for Visiting Schlitterbahn New Braunfels
Plan Ahead
There are three different water parks at the Schlitterbahn New Braunfels and each offers an array of options. Check out their website in advance and plan for the activities you want to do. Nothing sucks more than standing in lines for hours!
Show Up Early
Most people will begin their entrance around lunchtime but if you get to there before opening, you'll be able to choose the best places to chill and get in a ride or two before it's packed.
Purchase Tickets in the Off Season
We snagged a season pass toward the end of the season and saved a LOT of money! And we can use it for the 2023 season as well. For those who served, they also offer a military discount.
Bring Your Own Booze
Adult beverages aren't cheap and you'll quickly run up a high dollar tab for a handful of drinks. Since you can't bring alcohol into the park, leave an ice chest in your vehicle for hydration breaks. You'll achieve the proper measure and save money.
Purchase Meal Passes
Another exorbitant expense is the concession stand food. If you don't want to pack your own goodies, purchasing an All Season Dining Pass will keep you from breaking the budget.
Know When to Leave
Unless you love chaos and madness, there is a point when it's best to pack up and get the hell out. Plus leaving before everyone else does makes getting through the traffic much easier.
Our Final Thoughts
We had a great time at Schlitterbahn New Braunfels. It was a nice break from the Oklahoma heat we endured earlier that month and it was an awesome way to tan our buns in the sun. And while water parks are generally the best place for families to go and have fun, you can find a piece of happiness as a couple too.