Discover more from Life from the Road Magazine
A traveling lifestyle newsletter for adventurous couples, digital nomads, and modern day hippies.
Hotel Review: Beach Colony Resort at Myrtle Beach.
We decided to party at Myrtle Beach for our 30th wedding anniversary. What did we think about it all?
Donetta and I just finished our hotel crash at the Beach Colony Resort at Myrtle Beach, South Carolina. We decided to spend a week on the beach to celebrate our 30th wedding anniversary and have some fun. It was a very memorable experience!
Beach Colony Resort Review 2021
I'm gonna start off by saying the Myrtle Beach area was not my favorite place to visit compared to other beach areas we've explored in the past. As an old fart who doesn't like raging parties and lots of obnoxious people, this place was wasn't as peaceful as I hoped ... especially for celebrating such a milestone. More on that below.
The Location
The Beach Colony Resort is located at 5308 N. Ocean Blvd and halfway between North Myrtle Beach and Surfside Beach. It's just south of I-17 and North Kings Highway and sits right on the beachfront. Getting to the resort wasn't a problem as we headed south down the coast from Kittyhawk, North Carolina.
The street side area around the property isn't worth writing home about. It was mostly other hotels and homes, many needing new life breathed into their souls. There were a few shops and restaurants 5-10 blocks away, but again, they seemed old and lifeless. We were told there were many cool places to walk around and see, including outside bars, but there was none of that.
The Property
The actual property itself was nice for a high rise condo building. Some of it has a flash back to the 70s vibe while other parts were more modern. The lobby was very clean and bright and the rest of the resort inside overall was in good shape. They also have an indoor pool, very small gym, business center, and laundry facility.
Outside there were two medium sized pools, one children's pool, and a hot tub. You can play corn hole in the yard or just sit back on the lawn chairs or take a nap in the hammocks. They offer an ice cream shop but it was closed for remodeling, much to the dismay of children and grandparents.
If you need adult beverages to mellow out or food to cure the hangry, Beach Colony Resort offers an onsite bar and restaurant. The chicken wings and fried pickles kicked ass (and we had them both twice). The price for food and drinks were cheap compared to other resorts we've been at. Burgers were $7-10, wings were $8, and beers were $5-6 each.
The staff members we interacted with were very friendly and they kept everything as clean as possible. As for parking, it is free which is great, but if you have a pickup truck or larger vehicle it's a very tight space with limited options.
The Beach and View
Obviously we didn't come to the Beach Colony Resort to just sit in the room; we wanted to drink of the ocean and be mesmerized by it's beauty. And we did!
The beach is about 50 yards from the back of the building and getting there is no problem. The sand is nice, there are thousands of shells, hundreds of shark's teeth, and hordes of sexy and unflattering people to look at. Hey, just being honest here. ;)

The best time to go out and walk the beach or hang out is before 11 am and after 4 pm. Regardless, it wasn't overwhelmingly busy like the public beaches down the road. This was the main draw for us.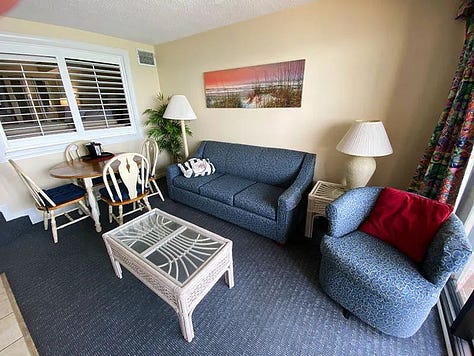 The Room
Before we arrived we did our research. Online reviews from frequent visitors recommended a few rooms due to their modern updates and decor. While we didn't get the specific room we requested, we certainly loved the one we did get.
Walking in we were greeted by a mermaid and her bosom (not a bad start) and a very beachy vibe. There's a long hallway that leads to the bathroom, bedroom, living room and kitchen. The bathroom was clean, bright, and spacious.
The bedroom was large and included a full dresser, king sized bed, smaller closet and a couch. The decor was very relaxing and a shuttered window opened up to see the ocean from the bed. And if you're with a spouse or partner and like to get freaky, there were plenty of mirrors by the bed, if you catch my drift. ;)
The kitchen was mostly updated and nice with enough space to cook smaller meals. The living room area was comfortable and cozy, though smaller. Certainly not an issue for couples but probably not good for a family.
The balcony was where it was at though and it's where we spent a lot of time. Looking out every day at the sunrise and moon over the ocean was fantastic. Overall we have no complaints here at all.
The Price
As part of our Beach Colony Resort review, we'll share what we paid. Our cost for five nights in the Oceanfront King Executive Suite was $786.89 including taxes, which included a 35% discount for booking online. That's $157.37 per day and well over our standard budget of $75 per day.
Was it worth it? Yes and no.
Because we chose to be on the beach at one of the busiest times in the traveling season, we expected to pay more. Additionally there were a lot of other hotels and resorts charging higher fees. In that aspect it was worth it, especially being able to walk right out to the water.
On the flip side, we paid $75 per night at Beachwood Resort at The Outer Banks which was WAY nicer - not right on the ocean but a two minute drive from it. In this respect, Beach Colony Resort was overpriced.
Final Thoughts
While I was excited to be right on the beach with Donetta for our anniversary and the resort overall was really nice, I was disappointed with our stay at Myrtle Beach.
There were too many rambunctious kids at the pool area because parents just left them out there. This killed any sense of romance, peace, and tranquility -- and we hardly used the pool because of it. There were no cool shops or bars close by to walk to as I was told on the phone. And there were the loud partiers who annoyed the hell out of me.
Perhaps my expectations were too high for the price we were willing to pay. Maybe I've been spoiled from awesome beach experiences like our time in San Diego or OBX. Regardless, it just wasn't what I hoped for.
Hopefully our Beach Colony Resort Review doesn't sway you away from visiting their property, but rather to give you a realistic expectation in case you're wanting a romantic getaway.
The resort overall was good and we might try it again in the off-season.