Discover more from Life from the Road Magazine
A traveling lifestyle newsletter for adventurous couples, digital nomads, and modern day hippies.
Hotel Review: Comfort Suites Gallup, New Mexico
We will always do our best to support veteran owned businesses like this hotel in Gallup, New Mexico.
We're always on the lookout for unique hotel experiences as we travel. As we drove home for the holidays, we discovered a real gem at the Comfort Suites Gallup in New Mexico.
At first we were really concerned because the state had a lot of Covid 19 restrictions. Mask mandates, closed restaurants, and self-quarantine is something we really don't want to deal with. Each state and town can be different and it's a pain in the ass to figure out. Fortunately for us the restrictions were light and we were able to stay.
Beyond this, our Comfort Suites Gallup Review covers a variety of information we hope is helpful to you on your own travels along Route 66.
The Location
Comfort Suites Gallup is located on historic Route 66 and right off Interstate 40. It's five miles from downtown Gallup and a couple miles from the Fire Rock Navajo Casino.
Because we were just traveling through and only stopping for the night, we didn't venture out to do any sightseeing or outdoor activities. Other than a few restaurants, I don't have any recommendations for leisure.
Overall we'd give the location a 4.5 star rating because it's easily accessible from the highway and had nice views of the surrounding area. Plus it was generally quiet and not busy with tourists.
The Property
Comfort Suites Gallup is a very well maintained and clean property. Parking was not an issue for our truck but it might be more challenging if you have an RV or trailer.
Inside the lobby you will notice the incredible displays of military history and honor. There are some VERY historic documents and memorabilia so please take your time to peruse them. Some of the displays are gut-wrenching and solemn reminder that our freedom is never free.
The lobby was well-lit and very inviting, as well as the breakfast area. You have space to sit and have coffee, watch tv, or read one of the many books on their shelves.
Overall we'd give the property a 5 star rating because it's one of the nicest Comfort Suites we've crashed in.
The Staff
Since our stop was later in the evening, we didn't really interact with any of the staff except the front desk. The person who welcomed us in was nice and friendly, so no complaints here.
The Room
Donetta and I chose a King Bed Suite on the upper floor (to avoid noise above us). The room was basic issue but very nice! And there was plenty of space to stretch out.
The room included a full size couch, chair, coffee table, desk and chair, large modern TV, mini-fridge, microwave, and of course the bed -- which was one of the most comfortable we've experienced in a Comfort Suites.
Everything was clean and immaculate like the rest of the property. It was also very quiet during our stay which is something we HIGHLY value.
We'd give the room a 4.5 star rating based on our experience.
The Price
Our goal is always finding an amazing place for a great deal. Sometimes we've paid a higher room rate for a "nicer" place and been disappointed, while paying a cheap rate for a basic hotel and been extremely pleased.
Comfort Suites Gallup is a great deal for what you get. At $79-99 per night depending on room and day, it's worth staying here for peace of mind.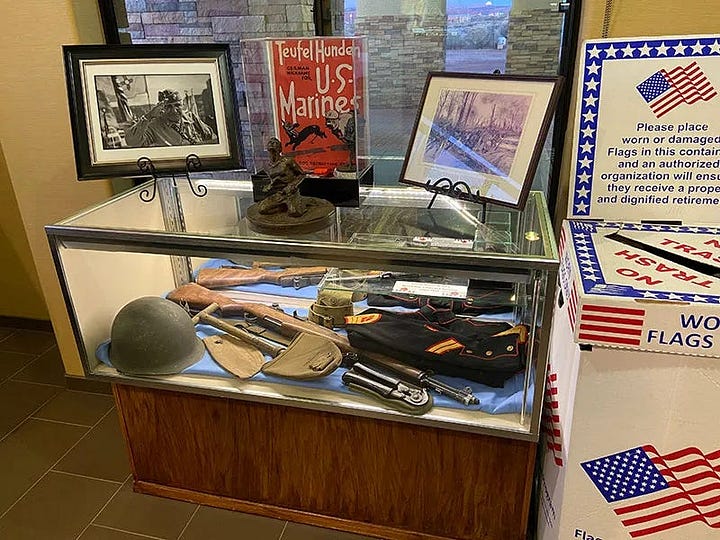 Final Thoughts
Wrapping up our Comfort Suites Gallup review we'll say that the only thing we didn't like was the breakfast. It's not that the food choices were bad, but because we have dietary restrictions by eating keto, there weren't any options. Plus the choices were limited due to Covid 19.
The amenities are standard to other hotels. They have an indoor pool, hot tub, business center, free WiFi, and fitness center. There are no complaints here.
Finally what I loved most about hotel crashing here was the emphasis on veterans. Plus the General Manager, Ken Riege, is also a veteran himself. So I salute this property just for that!
If you're ever driving through New Mexico along Route 66 and need a place to stop, Life from the Road definitely recommends this property.
HOOAH!