Discover more from Life from the Road Magazine
A traveling lifestyle newsletter for adventurous couples, digital nomads, and modern day hippies.
Hotel Review: Scottsdale Links Resort
When the rest of the country was experiencing ice storms, we enjoyed adult beverages by the pool. Not a bad place to be!
After spending an incredible week at the Villa Mirage in March, we had to relocate to the Scottsdale Links Resort. I wasn't thrilled to haul all of our stuff back to the truck, but it ended up working out nicely.
Hotel crashing allows us to experience new places all over the United States, so even though it requires us to move around, we get to enjoy a variety of properties. This is how we get to write so many reviews and travel full time. It's definitely work but so worth it.
So what about Scottsdale Links Resort? Well, let's get to it!
Scottsdale Links Resort Review 2021
As I wrote in my review about Villa Mirage, Scottsdale has a lot to offer, especially if you love golfing and shopping. This high end city provides plenty of options including hotels. However, if you're looking for a cozy and comfortable place to stay and don't want to spend thousands of dollars, Scottsdale Links might be your huckleberry.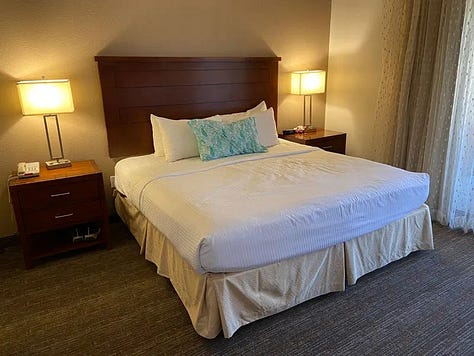 The Location
The resort is located just west from Highway 101 and right down the street from TPC Scottsdale Champion Golf Course. There's also a golf course next door.
You can easily walk to the Scottsdale Sports Complex to jog, watch soccer games, or enjoy a stroll in the sun. If you want to explore McDowel Mountain, Fountain Hills, and Phoenix Mountains Reserve, it's about 20 minutes to any of those locations.
The area is mostly quiet with not much traffic except East Bell Road, but even then it's nothing compared to many of the busy streets we've stayed by. Being away from the hustle and bustle is something we appreciate and we got that here.
The Property
Scottsdale Links Resort is a larger but impeccable property! From the moment to drive in, you will feel a smile on your face. You'll be greeted by a plethora of palm trees, exquisite flowers, and soothing water features. The lobby was bright and cheerful, plus it smelled AMAZING as the piña colada fragrances permeated the air.
The resort offers a breathtaking swimming pool filled with relaxing chairs, gazebos, and a splash pad for the children. There's also a main hot tub for everyone. But if you want the adults only pool and hot tub experience, THANK GOD ... they've got that too!!
There are also outdoor activities including oversized checkers, corn hole, a fire pit, and a playground. The Links has an awesome gym but it was closed due to Covid.
Everything was well kept and clean. There are no negatives here.
The Views
Unless you've reserved a room by the golf course or main street, there really aren't any views from the rooms except the buildings around you. We were fortunate enough to overlook one of the courtyards which made the experience better. We love to see greenery, water, and sunshine so that's always a plus.
The Room
Our one bedroom suite at the Scottsdale Links Resort was perfect. Not only was it clean, there was plenty of lighting and space for our truckload of buckets. :D
We loved the large, updated kitchen that gave us plenty of room to prepare our keto meals and fashion up some adult beverages. The granite tops and mahogany cabinets are a nice touch. And we're always thankful when a kitchen includes a dishwasher and garbage disposal. It's the simple things in life. LOL
The living room was comfortable and bright. It had a large window and door to the outside balcony, giving us the cheery vibe we were looking for. There's a large dining room attached to it so if you have more than two people, you can definitely have a party here.
The bedroom also had plenty of space and included the largest walk-in closet we've ever had! While the decor was non-existent, the bed was super comfortable and perfect for sleeping, reading, and other activities. There's also a door to the spacious balcony.
The bathroom was beautiful and plenty for what we need it for. The balcony was great to sit outside and enjoy beers, coffee, and the birds singing.
Overall we couldn't have been more pleased with our accommodation and hated to leave after two weeks.
The Price
Honestly I don't remember what the exact price is we paid for two weeks. Because we had just signed up to become a member to Diamond International, we did get the special rates for booking less than 59 days out. I think it was about $53 per night for a total $371 per week ... which is a steal for a property of this caliber.
Right now (June 2021) the price on their website for a one bedroom is $106.30 per night or $95.67 per night with military discount. Seeing that we've hotel crashed in some shitty places like Extended Stay or select Comfort Inns for the same price or more, the Scottsdale Links Resort rates are fantastic.
Final Thoughts
Are there any negatives to include in our Scottsdale Links Resort Review?
The only thing people might not like is the sound of aircraft flying overhead because a small airport is close by and there are hundreds of jets landing each day. Since I love planes it didn't bother me. Other than that, I can't think of anything about this property or staff that would be a negative.
Honestly I could see us staying here for a month or more because it was perfect for us and our lifestyle. Our ability to take daily walks and spend time in the pool, all with a quiet and comfortable setting makes us want to come back.