Discover more from Life from the Road Magazine
A traveling lifestyle newsletter for adventurous couples, digital nomads, and modern day hippies.
Hotel Review: Staybridge Suites Cathedral City
If you're looking for a great time by the pool while enjoying adult beverages, this is a great place to stay!
Several weeks ago we planned to go to Utah to visit some national parks but we called an audible instead. We decided to head for the beaches of San Diego and discovered the Staybridge Suites Cathedral City along the way. We're SO glad we did!!
Cathedral City, or "Cat City" as it's known, is a resort town located close to Palm Springs and in the Coachella Valley. It's a place to sit back and enjoy life, play some golf, or shop at the posh lifestyle stores. Yet there's also a rich heritage from the Cahuilla Indians, the original inhabitants of the land that shouldn't be ignored.
If you like to go out and dine, then LULU California Bistro should on your list. It offers indoor and outdoor seating and has a very cool vibe to it. The Chicken Wings Diablo were delicious as was the beer. We enjoyed the outdoor experience and watched people from all walks of life doing their thing.
What we loved about Staybridge Suites Cathedral City
While there's so many fun things to do in Cathedral City, what made our time amazing was hanging out at Staybridge Suites. It's a large property of 300+ rooms but it looks and feels like a desert resort. Here's a breakdown of why we loved our visit.
The Swimming Pool
The temperatures were an average of 105 degrees each day. Unless you relish the idea of a heat stroke, staying cool is the thing to do when it's that hot. Thankfully the swimming pool was open and it was awesome! We spent a lot of time basking in the sunshine while enjoying adult beverages in the crystal clear water. And despite Covid 19, we had several great conversations and beers with other people.
The Mountain Scenery
We were gifted with a room facing the mountain and it was freaking incredible. I loved spending every moment of every day marveling at the scenery outside our window (which was also by the pool). The scenery of mountains and the golf course, along with watching the wildlife and WWII planes flying from the airport made this perfect.
The Staybridge Suites Staff
I had the honor of visiting with Karen Butler, head of sales of the property. Not only did she give us generous upgrades, she spent time telling me about the hotel, their Covid 19 procedures, and giving us ideas of what to visit. Mark and Rose from the front desk were delightful and fun. And all the other staff members I interacted with were so kind and happy.
The King Suite Room
Having traveled full-time for three months now, it's so nice when you can spread out. Aside from our stay at the Medovich Oasis in Las Vegas (more on that soon), this was the BEST room accommodations so far. Staybridge Suites Cathedral City provided a King Suite room that was beautiful and absolutely clean.
The space was extremely comfortable especially with all our buckets and gear. The full sized kitchen made it easy to cook our own meals and make drinks. The bed was soft and cozy. And there was a good sized desk and couch to work from. I didn't want to leave.
The Covid 19 Protocols
For travelers who are concerned about Covid 19 and safety protocols, there's no need to worry when you book at Staybridge Suites Cathedral City. They take their job seriously and implement a full range of measures to ensure your stay is safe as possible.
The cleaning staff uses a special spray and cleaning techniques for your room. The hotel requires a face mask for pubic areas and you have to book time for the business center or laundry facility. Grab and go breakfast meals are available each morning with a hot breakfast still provided on the weekends.
The Dog Friendly Atmosphere
While we no longer have our best friend Bandit in our lives, it would have been a desert paradise for him as well. This property is dog friendly and offers a 7500 square foot park for your furry friends to have a good time. There's also a three mile trail by the golf course for long walks and happy memories.
For full-time travelers with dogs, you can't go wrong here!
The Easy Access to Hiking and Fun Activities
Because it was brutally hot the week we arrived, we didn't really get out to go hiking or do many activities. Yet there are plenty of fun things to do if you want to get out for the day. And the location is great because you don't have to drive far to find some action.
There's the Palm Springs Air Museum filled with some of the best aircraft from WWII. There's Seven Sisters Falls and The Joshua Tree National Park for outdoor hiking and adventure. You can shop at a plethora of stores in downtown Cathedral City or play a round of golf at the many lush courses.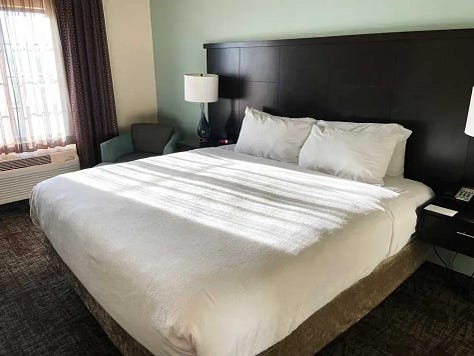 A great place for an extended stay!
Staybridge Suites Cathedral City is a perfect place for an extended stay, whether for work or vacation. If you hang out for several weeks or a couple of months, you get way better rates.
Finally, the atmosphere is awesome for traveling couples. Try enjoying a romantic evening by the pool and fire pit with a glass of wine. It's nice to get out for scenic walks by the mountain or to sit outside and grill some steaks.
So is there anything we didn't like?
No stay in a hotel is ever perfect because there are other guests involved. Unfortunately we seem to be magnets for the obnoxiously loud, door slamming, mosh pit dancing neighbors. This has nothing to do with the hotel but a lack of common respect and courtesy by their guests.
If you love to travel, especially with a group of kids, please remember there are other people next door to you; people who are trying to work or sleep or have an intimate moment without a great disturbance in the force. Be kind to your neighbors!
Give Staybridge Suites Cathedral City a go.
If you ever find yourself in this area or just want to plan an extended getaway, please call Karen Butler at 760-656-3303 or visit their website to book your stay.