Discover more from Life from the Road Magazine
A traveling lifestyle newsletter for adventurous couples, digital nomads, and modern day hippies.
Hotel Review: Staybridge Suites in Charleston, South Carolina.
It was brand new, clean, and very comfortable.
If you're heading to Charleston and want a great hotel to crash, we'd like to recommend the Staybridge Suites Summerville. It's a brand new property that opened up last year and conveniently located off of I-26. We really like this hotel and will share all we experienced below.
Staybridge Suites is one of our favorite hotel chains because they are consistent in experience and give us all we need while we live in hotels. We'd like to spend more in IHG properties but they're not always the easiest to work with and the rewards system isn't as good as Choice Hotels. But we're not going to let that, or their staff telling us they didn't want a review, affect our thoughts from our recent stay.
Let's get to it!
The Location: 9/10
The Staybridge Suites Summerville is located at 225 Holiday Drive Summerville in South Carolina. It's not far from the Charleston International Airport or downtown Charleston. You have plenty of restaurants nearby and a few minutes from Walmart or Target. While we would've loved to be in the center of the city, this location worked great for us.
The Property: 10/10
Since the property is brand new it looks great. The area is well maintained and provided a very comfortable vibe. The lobby has plenty of space for checking in and enjoying breakfast. It's bright and cheerful so if you like hanging out in the lobby area, you'll be good to go here.
Unfortunately we didn't take pictures of this area as the desk staff said they didn't want us doing a review. How bizarre is that??? Everything else we experienced with the property was fantastic.
The breakfast and dinner staff and housekeepers were amazing and super-friendly. OH ... and this particular property serves dinner four nights per week and it's great food. Kudos to them!
The Room: 9.8/10
We stayed in room #310 which is a king bed suite, as we prefer to have more space for working and chilling out. As we entered the room we felt at ease. The newness of it all helped our psyche and we always appreciate large windows that bring light into our space. So far so good.
The Kitchen: 10/10
We loved this space! There was plenty of room to prepare meals and spread out, plus the frosted glass cabinets, subway tile, and stainless steel appliances were a nice touch. With a full size refrigerator, microwave, dishwasher, cooking utensils, coffee maker, and a few extras, you will be set for dining in and saving money.
The Living Room: 10/10
Any Staybridge Suites we've stayed in has their same standard living room with a sectional couch, foot rests, desk, and a TV with dresser stand. The couch was very comfortable to work from, as well as the desk. The TV was a good size and the windows allowed us to gaze outside when needing a break.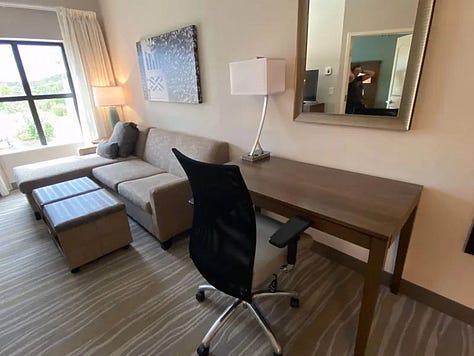 The Bedroom: 9/10
Our bedroom had a beautiful wood headboard (without the squeaking) and king sized bed which was super cozy. The sheets and pillows are a higher quality, unlike some hotel brands where it feels like you're sleeping with sandpaper. The room itself was very spacious and included a sitting chair for reading or sipping coffee. The closet provided enough space for our suitcases and other traveling gear.
If binge watching Netflix or Hulu is your thing, they could stand to upgrade to larger TVs in the bedroom. But I prefer to spend my time doing other things so TV size doesn't matter. ; ) And a few extra charging ports would be great as they are limited here.
The Bathroom: 10/10
This is where I do my best brainstorming. The bathroom in our room at Staybridge Suites Summerville was clean and the space more than ample. The large sink area allowed us to stay clutter free and the tub was nice for a bubble bath while sipping wine and listening to Michael Bolton. :D
The Wifi: 10/10
Glorious it is when the hotel WiFi actually works and at a decent speed! It's one of the pros and cons to hotel living. We had no problems with the internet or WiFi here.
Sound and Noise Level: 10/10
This rating is just as important as the WiFi. Having lived in hotels for over a year now, we sincerely appreciate properties that have better sound proofing or appeal to a better crowd. This was one stay where we can give two thumbs up for the quiet atmosphere.
The Price: 9/10
Our standard budget rate for hotel rooms is $80 or less per night so we can spend more on traveling experiences. But this budget isn't always doable depending on where we are (the east coast is way more expensive) and time of year. So it sucks when we have to spend more but we don't mind as long as it's a great hotel.
The Staybridge Suites Summerville rate was $122 per night (but prices always fluctuate) so it was over budget. However, if you consider they serve a fantastic breakfast and dinner four nights per week, this is a very good deal.
The Final Score: 9.45/10
There really isn't much that could be improved at this property and it's as close to perfect as it could get. This was a great place to work and relax while giving us quick access to points of interest.
As for our trip to Charleston, we really enjoyed walking around downtown and visiting the marketplace. The people were friendly and the history there is incredible. We'd like to go back and visit when it's not so hot. Other than that it was an overall wonderful experience.