Discover more from Life from the Road Magazine
A traveling lifestyle newsletter for adventurous couples, digital nomads, and modern day hippies.
Hotel Review: The Historic Crags Lodge
Donetta and I couldn't believe our luck when we were able to book six total weeks at this amazing place. It was well worth the wait!
Ever since becoming members of DRI in 2021 and enduring hours of sales presentations, we knew we wanted to stay at The Historic Crags Lodge by Diamond Resorts when visiting Estes Park. But we could never find availability -- until recently.
Donetta and I couldn't believe our luck when we were able to book six total weeks at this amazing place. It was well worth the wait!
Why Choose Historic Crags Lodge?
If you've ever been to Estes Park, you know rental properties aren't cheap. Rooms at local hotels can easily average $200-$300 per night during the tourist season! This certainly isn't optimal when you're living in hotels full-time. Unless you're independently wealthy - which we definitely aren't - then budget is always a consideration for travel plans.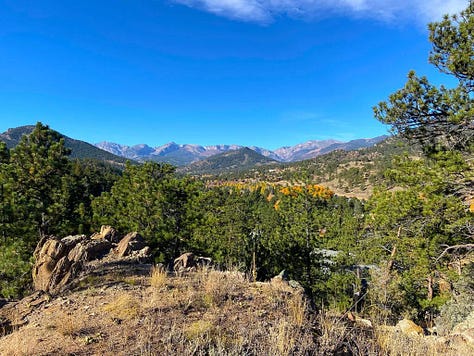 Somehow we were able to find availability AND get our room rate for an absolute steal.
This is the biggest reason for our decision to stay at the Historic Crags Lodge, but after being there a few days it became so much more than that.
The staff is awesome!
Without a doubt, the people working at this property deserve incredible praise, especially Barb Legg who manages the lodge. She was truly amazing at helping with our accommodations and needs. We also got to really know Bob, Sharon, Aki, Steve, and Rose Mary, all of who became a part of our extended family.
Leaving Estes Park was hard because we love that place, but also because we love those people.
The location is perfect.
Nestled up on the side of the mountain, it provides stunning views of the Rocky Mountains and the surrounding area. It's conveniently located next to Highway 36 which leads directly to Rocky Mountain National Park and a two minute drive to downtown Estes Park (and easy access to free parking).
There's plenty to do and see without going very far.
The property is very good.
When visiting the Historic Crags Lodge it's important to remember the historic. It's not a brand new property by any means and needs some minor updates to the rooms, but we loved staying here. In fact, the quirkiness and old lodge feeling is what makes it special. Plus the seeing the elk and deer close by was also thrilling.
Our favorite place to hang out at the lodge was the outdoor areas. You can easily enjoy an adult beverage while gazing in awe at the mountains.
The rooms were comfortable and cozy.
Donetta and I got the opportunity to experience a variety of rooms, each with a unique layout or scenery. While we have our favorite room now (which we'll keep a secret) we enjoyed all of them. Plus they have kitchenettes so you can cook your own meals and save money. Overall there are no complaints.
The only downside is there is no air condition in any of the rooms so if you get the afternoon sun, it can get a bit toasty on warmer days.
The restaurant is a bonus.
The separate but onsite restaurant provides you with the opportunity for a fine meal. The bar serves up a variety of cocktails and craft beers. The owner and staff are super friendly and welcoming. And they make a hell of an empanada.
The only challenge with this option is you are required to make reservations and seating is limited. It also closes in the winter months.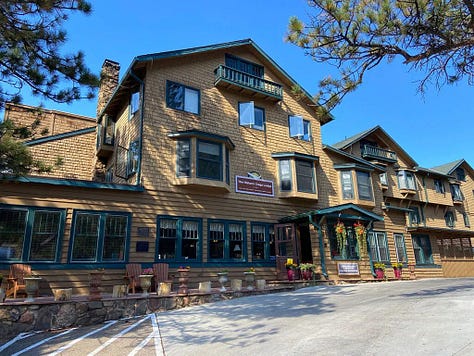 We will definitely stay here again.
The Historic Crags Lodge really felt like home and it's one of the best places we've stayed in the past two years of traveling. You might not be able to get it for the rates we did, but if you're in Estes Park and can find an opening, we highly recommend it.