Discover more from Life from the Road Magazine
A traveling lifestyle newsletter for adventurous couples, digital nomads, and modern day hippies.
Welkom in Nederland
Returning home to my Dutch roots in the Netherlands makes me happy.
Hallo! This past week Donetta and I were finally able to return to Europe and my "second home" of the Netherlands.
When I was younger I never believed I would have such a passionate connection with my Dutch heritage.
My mother was born and raised here, survived the horrors of WWII as a child, and then spent her early teenage years in The Hague before my grandparents relocated their entire family to Australia in 1950. After coming to the United States, my grandparents decided to embrace the American culture and kept very little of the Dutch lifestyle. So I didn't know much about their culture until the last 15 years.
But when I touched down in the Nederlands for the first time in 2017, it felt like my heart had been here all my life! It was surreal.
That was the trip that deeply connected me to my Dutch roots and family. I was able to walk in the footsteps of my grandparents and relive so many stories that had been passed onto me from my mother, aunts, and uncles. I have experienced something rare and magical; something nobody else in a large extended family of 180+ people will probably ever get to do in their lifetime – or most people on the planet will ever experience either.
My second trip to the Netherlands was all about World War II. My grandfather was in the Royal Nederlands Army and personally served Queen Wilhelmina, helping her escape the Nazis in 1940 before becoming a leader for the Dutch resistance and risking his life to hide Jewish people, spies, and weapons throughout the war. Our time was spent commemorating the 75th anniversary of Operation Market Garden, the largest airborne dropping in the history of the world and where my grandparents were finally liberated by the Americans on 17 September 1944.
Now Donetta and I are are back for our third visit to enjoy time with family and learn the Dutch way of life. Just in case we live here longer some day.
---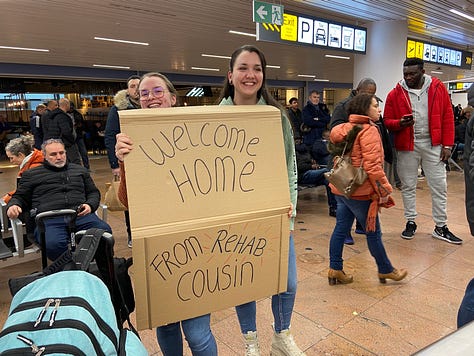 ---
It's been one week and so many priceless experiences already.
We've only been here for one week but we've had the chance to really dive into the culture and food. And maybe more than a few beers for me!
Currently we're staying with my cousin, Milou, and her parter, Raymond, and their son. They live in a lovely farm town called Puth in the Limburg region and spoil us every day. We are so blessed! The area is absolutely beautiful and extremely quiet. There are walking paths everywhere among the lush green fields. The town offers a blend of historic yet modern vibes and it is so very welcoming.
The village of Sweikhuizen is right down the street where you can go to the Brood op de Plank, a small bakery to buy fresh bread and vlaai (pie) every day. Next door to that is Cafe Meels where you can enjoy a variety of coffees, special beers, and Dutch delicacies like Bitterballen. Both were amazing experiences.
Then we've enjoyed time at some bars and restaurants in Maastricht and Sittard with my cousin, Merel. She's taken us to some great places, introduced us to her awesome Dutch friends, got us to try Stinkkaas (which translates to stinky cheese and is absolutely horrible and literally smells like shit), and put down more than a few beers with me. Yes ... I've blown my carb count!
Last Saturday we spent 24 hours in Veghel, a mesmerizing, historic town with a growing hipster flair. This is where my grandparents spent most of the war, running the resistance from an area called the Noordkade. We had a blast hanging out with my brother from another mother, Theo, and his amazing wife, Debbie, who also cooked us the most delicious Indonesian food. We love their entire family so much and we can't wait to see them some more.
Of course I can't forget Handsome Lou, my second cousin who feels more like the goofy, prankster uncle everyone loves to be with. He's been showing us Dutch castles, taking us on walks, and sharing family stories. And yes, we've also had a couple Cherry beers and delicious deserts together.
Yesterday we returned to the Netherlands American Cemetery in Margraten and visited the Henri-Chapel American Cemetery in Belgium. It was a sobering reminder of the cost for our freedom, but such beautiful places for our heroes to be laid to rest. Ferdinand and Rosie Gulikers then took us to Liege, Belgium, where we had a very tasty lunch - and it was my first time eating rabbit.
Donetta and I are extremely fortunate to have these people in our lives. We're SO grateful for their generosity and hospitality. Dank je wel.
---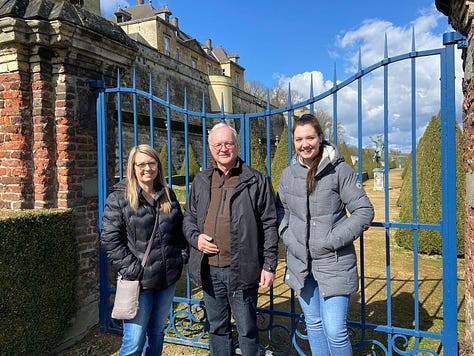 ---
Two months in Europe won't be enough.
There is so much to see here that it's beginning to feel like two months won't even be long enough to scratch the surface but we're gonna try.
This weekend we will visit Aachen and Munchau in Germany. Next week we'll head to Normandy for three days and then seven days in Paris with our daughter, Kayla. We're really stoked for all of this! But I'll admit trying to figure out the trains and buses for our France excursion was completely overwhelming and hopefully goes as planned. Or maybe we'll end up in Croatia. Who knows?
What I do know is we'll have a bunch of exciting stories and photos to share. And probably plenty of European traveling advice or recommendations. So get ready for some fun.
Goedenavond!