Discover more from Life from the Road Magazine
A traveling lifestyle newsletter for adventurous couples, digital nomads, and modern day hippies.
March Field Air Museum Review
Be prepared for this awesome air museum filled with vintage aircraft and memorabilia. There is a lot to see and experience!
A couple of months ago I discovered March Air Field Museum in route to our stay in San Diego. I never knew this place existed and only happened to see it as I sped south on I-215 near Moreno Valley. And while I caught some amazing WWII aircraft out of the corner of my eye, I decided to keep driving.
For those of you who really know me, this is shocking!
My passion for WWII history "prohibits me" from neglecting my duty to engage every veteran or military museum I encounter. It's just not like me to pass up an opportunity ... and I almost did it twice.
As we left San Diego we passed this hidden treasure again and it wasn't until several miles beyond that I was compelled to turn around and head back. I'm so glad I did.
---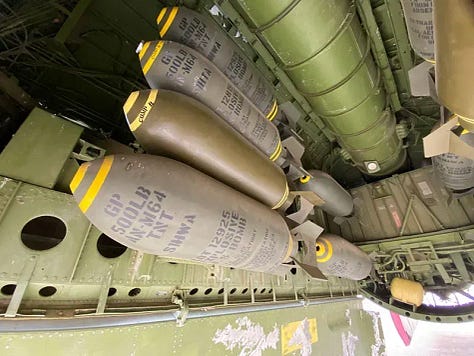 ---
Visiting March Field Air Museum was priceless.
Driving up to March Field you will be mesmerized by the amount of military aircraft present outside. It is almost overwhelming to take in.
You'll notice a variety of aircraft and vehicles dating back to World War II to the present. There's the crowd pleasers including the famous B-17, B-24, and B-29 Superfortress bombers. If you like the F-4 Phantom or F-16 Fighting Falcon, they've got it covered. There are Hueys, an AH-1F Cobra, C-17 Globemaster and an SR-71 Blackbird to name a few more aircraft.
I spent over an hour just walking outside getting up close and personal with these beauties. You have to take time to appreciate the history and importance of it all.
They offer more than aircraft.
While the static aircraft displays are 90% of what you'll encounter at March Field Air Museum, you'll also have access to memorials and historic memorabilia from various eras.
The incredible tributes to our military heroes grace the outside grounds before you enter the hangar. You can learn more about the Fifteenth Air Force, see the P-38 Lightning Memorial for WWII, or see the cost of freedom at the National Distinguished Flying Cross Memorial. It's all very humbling.
The March Field hangar houses many exhibits (though restricted due to Covid 19) and educational elements for any age. They have done an exceptional job of keeping this important military history alive. There is so much to see.
I almost missed out on something special.
Donetta encouraged me twice to stop at this museum and I almost ignored her in order to reach my destination. Yet traveling can't always be about getting the next place; we risk missing out on priceless discoveries like March Field Air Museum.
If you love military aircraft or history and you're in the Southern California area, do not drive by this place. Stop and enjoy all of the awesomeness it offers. It's well worth the time and money.
Thank you to everyone who has made March Field Air Museum a reality. I salute you!
P.S. I had to stop uploading photos. There were simply too many!!!
---