Discover more from Life from the Road Magazine
A traveling lifestyle newsletter for adventurous couples, digital nomads, and modern day hippies.
Maui Excursion: Reef Dancer Glass Bottom Boat Tour
Our excursion with Reef Dancer was incredible. We went out on a boat that's like a submarine, getting to see the ocean floor and some marine life.
Yesterday we went to Lahaina to do a little shopping and go on an excursion. Well, we girls shopped and the guys sat outside waiting for us. haha! Lahaina has tons of cute little shops and things to check out and we really enjoyed browsing.
In front of the harbor is this area with a massive tree that's super cool!! It's called a Banyan tree and it was planted in 1873 and is one of the largest in the country - or the largest depending on the source. It takes up an entire city block and is over 60 feet tall. It looks like a lot of trees but it's one tree. "Descending from its branches, aerial roots drape towards the ground, where they take root, thicken, and form new trunks that allow the tree to grow vertically and horizontally."* Isn't it incredible?
Of course there are other beautiful trees and wildlife in the area to see as well and we enjoyed seeing it all.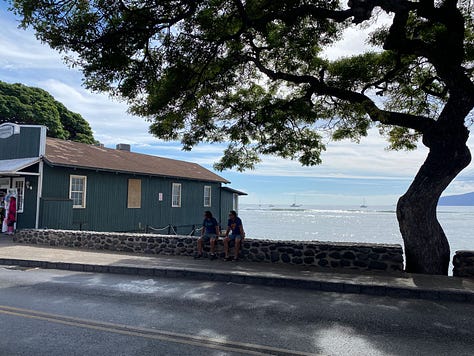 ---
Our excursion was booked with Reefdancer and it was incredible. We went out on a boat that's like a submarine with windows on the sides and we got to see the ocean floor and see some marine life. They had divers that went down looking for things to bring up to the window and show us and it was so fun!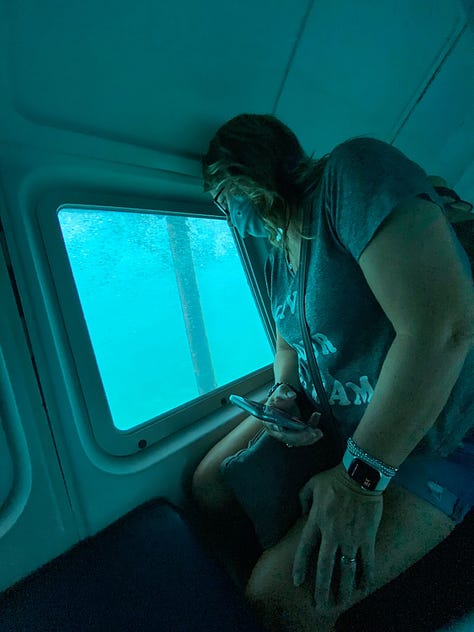 ---
We were out in the water for a bit so it felt like we'd gone a long way. But when we came above to the top this is where we were. We thought we were way out in the ocean but we weren't very far out at all. haha!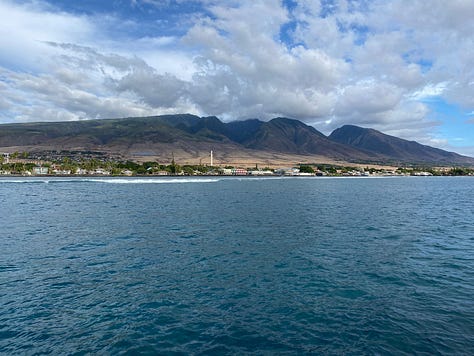 This excursion was definitely something we thoroughly enjoyed and would recommend. The crew on the boat were so friendly and they did a great job of telling us exactly what we were seeing and answering any questions that anyone had. They even had some sea life on board that we could see and hold and learn more about. It was a great experience for sure. 😊
---
This is Kathy. She was awesome! She works the counter at the harbor and we ended up talking to her for about half an hour after the tour. She was so fun to visit with and we just loved her!
*Read more about the tree here.