Discover more from Life from the Road Magazine
A traveling lifestyle newsletter for adventurous couples, digital nomads, and modern day hippies.
On the Road Again!
We can't sit still for long so we're living life from the road again and here's where we've been so far.
Donetta and I are so stoked because we've been able to get back out on the road again and explore new places recently. It feels so good!
We decided to take six weeks to drive to Salt Lake City for our upcoming annual Scentsy Family Reunion, as well as celebrate 31 years of marriage to each other. Plus I needed to get to Idaho to fulfill one our bucket list items.
It's been a truly epic trip despite the ridiculous gas prices. Here's where we have we been so far.
Payson, Arizona
We lived in Arizona 27 years ago and some friends of ours brought us to this memorable mountain town for a day visit. I've been wanting to return to it ever since then.
Celebrating our anniversary in Payson was absolutely amazing.
We enjoyed romantic hikes in the Tonto National Forest, captivating views from the Mongollon Rim, scenic drives into the town of Payson, and a relaxing atmosphere and amazing temperatures at Kohl's Ranch Lodge in the mountains.
After several weeks of hard work it was nice to escape and spend time here.
Pinetop, Arizona
Our next stop was a short drive to Pinetop to spend another week in the mountains while doing more hiking. However the highlight was seeing Maverick, Top Gun II, which was AWESOME!!! If for some reason you haven't seen this movie it is worth it.
The weather was perfect for our stay at the The Roundhouse Resort. We took time to play miniature golf, table tennis, and billiards at the resort. Other than that it was just chill time.
Scottsdale, Arizona
It was hot as hell when we arrived in Scottsdale but the main goal for this week was spending time by the incredible pool and working on our tans .. while sipping on adult beverages of course.
We returned to the Villa Mirage from Hilton Vacation Club because it's a great property. Other than a liquor run to Costco and the grocery store, there wasn't much adventure.
Summerlin, Nevada
Las Vegas pretty much sucks these days and there's no real joy in visiting this city anymore, but we LOVE being with our friends Brent and Michelle!
We spent the weekend at the Medovich Oasis hanging out at their pool, playing with the dogs and cat, getting my ass kicked 9 times in a row at billiards, and catching up on life. And no trip to Summerlin would be complete without Brent's famous margaritas to liven up the conversations.
Saint George, Utah
The drive from Nevada to Utah was really cool but as we neared Saint George for our next stop, it was truly incredible.
This city has a lot to offer for outdoor and indoor activities as well as really cool vibe. It's surrounded by mountains and there's plenty of hiking in the area. We visited Kayenta Art Center, Snow Canyon, and Red Hills Desert Garden where we were chased and terrorized by a very LARGE blackbird.
But the best was yet to come …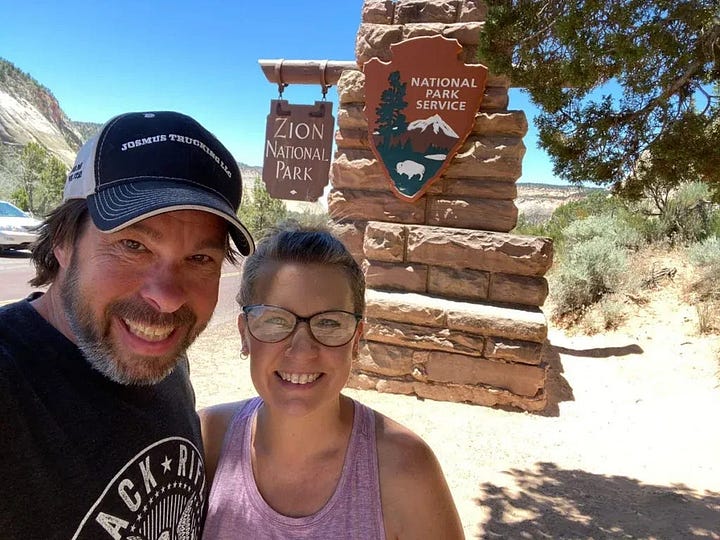 Zion National Park, Utah
This truly deserves its own post - and we will write it - because this place is extraordinary and epic!
The drive from Saint George to Springdale was so gorgeous and it's only when you cross into Zion National Park that you truly begin to feel the sheer magnitude of scenic beauty in front of you.
We took the shuttle bus through the busiest part and walked a couple miles of trails. Then we drove through the park on our way to Bryce Canyon. We took in as much as possible but decided there's no way to experience it all in one day. So there will be a return trip to ZNP in the future.
Panguitch, Utah
We crashed at the Rodeway Inn located off US-89 and UT-12 in Panguitch, Utah. There's not much out there except a burger shop (they serve delicious food) and a gift store, but the access to the canyon is easy and a fun drive.
The actual town of Panguitch is small with an old Western vibe. We chose to eat at the Cowboy Smokehouse Cafe. And we were not disappointed. The Pig Tails and stuffed Jalapeños, along with the Johnny's American IPA, were a perfect combination.
Bryce Canyon, Utah
Bryce Canyon National Park is must see on your traveling adventure. Located only a couple of hours away, this mountainous area is mesmerizing and vastly different than Zion National Park.
BCNP offers an incredible display of weirdly shaped rock formations or Hoodoos as they are called. The scenery of these spires and surrounding mountains is surreal. We'll share more in a separate post.
Pocatello, Idaho (My 49th State)
While our Scentsy event will take place in Salt Lake City in a few days, we had to haul ass to get to Idaho for a special reason.
Donetta has been to every state except Alaska. I needed to catch up with her by getting to Idaho. Now we can both make Alaska our 50th and final state to visit this year. We're super stoked!
The six and half hour drive from Bryce Canyon was well worth it. Idaho is very beautiful and the deep green mountains are completely different from any other place I've been.
The weather has been 60-80 degrees and we've discovered some very cool places like Historic Downtown Pocatello, Hell's Half Acre, and Portneuf Valley Brewery — with some of the best beers I've ever tasted. It's so peaceful and relaxing out here that I will want to come back.
Salt Lake City, Utah
We'll end our trip by hanging out in Salt Lake City for a week for the annual Scentsy convention. It will be exciting to see and catch up with old friends before making our way back to Lake Texoma for Independence Day in Oklahoma.
Other than that, I'm sure we'll stop at a few more groovy places on our way back and we'll have to share more about the national parks soon.
Keep rolling on.
It's been fun being back on the road again. We've missed traveling and it's reminder of just how amazing our country really is.
We're planning our Alaska trip and hoping it can happen this year. It's not a cheap getaway and there are some challenges to overcome. Yet we're gonna try like crazy to cross this off our bucket list ASAP.
Other than that our idea is to keep rolling on somehow, someway, somewhere.