Discover more from Life from the Road Magazine
A traveling lifestyle newsletter for adventurous couples, digital nomads, and modern day hippies.
The Best Beer in the Netherlands. So Far.
If I'm gonna drink beer why not make it a part of the business and write it off as an expense?
I've been all over the world, traveled full-time for almost three years now, and tasted a few hundred beers. Yet I've only written about beer just once.
Seems crazy, right???
For someone who always talks about beer and has posted hundreds of photos of it on social media, it doesn't make any sense to not share these edifying experiences.
Today I'm gonna start something new by blogging about the beer.
My European Beer Experience
I've been in the Europe for six weeks and have visited four countries, but I want to focus on the Nederland, where my mother was born.
During this time I've consumed way too much biertje for a guy who has worked hard(ish) to keep my weight off, but I'm also in an area that has unlimited options for world renowned beer. How can I say no? Besides, I don't want to be rude to the Dutch people by not supporting their economy. So I suffer for the greater good.
Heineken. Amstel. Grolsch. Bavaria.
These are what most people would think of when it comes to Dutch beer. Sadly they are absolutely the worst beers in the Netherlands. If I want to smell weed, I'll smoke it or if I want drink piss water, have a Bud Light.
I can't understand why anyone would believe these brands to be among the best because they aren't even close.
Honestly I don't think the Dutch are very good at brewing biertje for whatever reason, though I see a lot of microbreweries that could be amazing. The Belgians certainly take the prize for the overall best beer.
Yet there are some fantastic beers I've tasted from beer makers in the Netherlands. They are as followed.
Made by Monks but tastes like heaven. La Trappe has a rich history for brewing this sweet nectar of the gods. And my praise for their work is high!
La Trappe Blond, La Trappe Tripel, and La Trappe Bock have been fantastic but I hope to try the others soon. They are definitely the best and full of flavor.
By far the best beer I've consumed is Alfa Idel Pils, an incredibly different and complex lager.  This is interesting because lagers are not my favorite choice, yet there's something about this beer that made me love it.
The Alfa Idel Pils is light, tasty, and refreshing with only a 5% alcohol content. I'll be visiting the brewery soon to try their Spring Bok and Super Strong.
Perhaps people from the northern side of the Netherlands think Brand Bierbrouweri is what I think about Heineken, but for a larger brewery they make some great stuff like the IPA and Powerful Blond.
Brand is a fantastic beer, reasonably priced, and heavily served in the Limburg region like Sittard and Maastricht.
---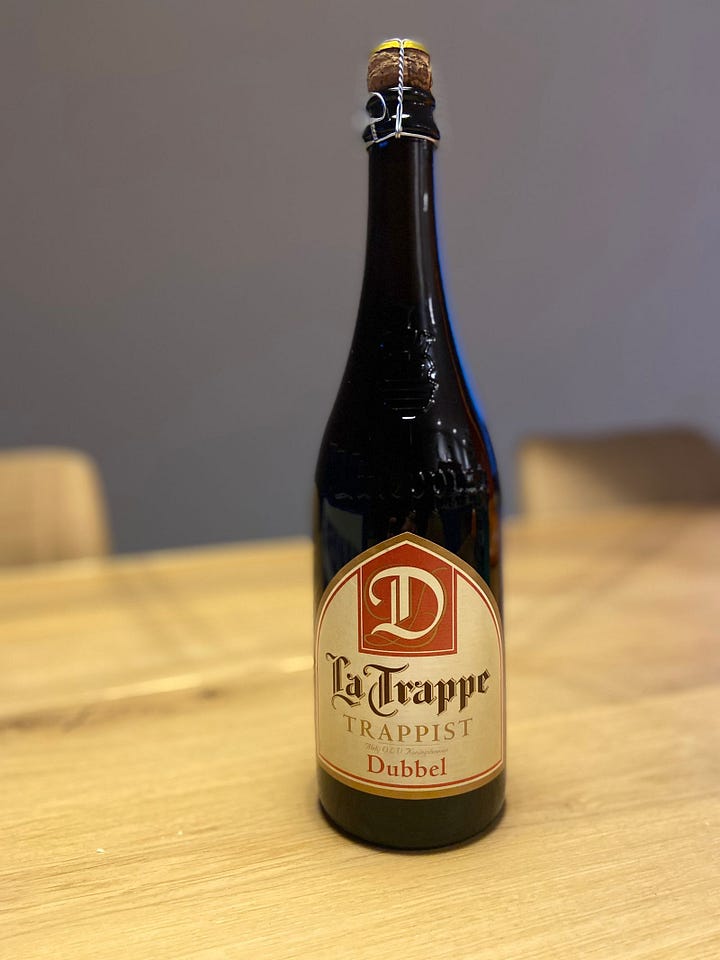 ---
Not done yet!
The mentioned brands are brewed in the Netherlands so they take priority. However the amount of kick ass beers in this region are astounding!
This Belgian beer is one of my favorites in Europe and the United States, but certainly cheaper to buy over here (approximately $4.50 for a liter at Jumbo).
La Chouffe is their standard blond beer filled with unique flavors and great for any occasion. I've also enjoyed Cherry Chouffe, a vibrant variety with notes of strawberry, almond, spices and sweet Port. MC Chouffe is also unique and worthy.
The Golden Dragon from Belgium has also been enjoyed during my stay. I love the taste of Gulden Draak 9000 Quadruple, a deep amber beer at 10.5% alcohol volume. It's a full bodied flavor without being too heavy to drink a couple glasses.
Hazy Jane is a New England IPA that includes notes of pineapple, mango, stone fruit and a hint of mandarin in the mix. Brewed with oats and wheat and unfiltered for a smooth, juicy finish. It's perfect for a nice day outside.
Brew Dog is a Scottish brewery with a cool history and a love for punks. So they get a rebel yell and a nod for their efforts.
I've enjoyed this extremely refreshing red-brown ale numerous times. It's usually served with a couple cubes of ice, a slice of lime, and a leaf of mint, making it so easy to drink several without even thinking about it.
Rodenbach Fruitage is brewed by the Swinkels Family Brewery, a larger producer of Dutch beer brands.
---
With a little over two weeks left in the Netherlands, I certainly hope to tackle more microbreweries and other beer brands. Whatever I discover I will let you know.
Cheers!!!