Discover more from Life from the Road Magazine
A traveling lifestyle newsletter for adventurous couples, digital nomads, and modern day hippies.
The relaunch of dalman designs
A brand new collaboration between old school and new school ideas.
Thirty five years ago I never imagined the quest to express myself would lead me down a path of endless opportunities in the creative industry.
As an artist and designer, I've done almost everything.
Graphic design, airbrushing, illustration, sign painting, screen printing, embroidery, vinyl graphics, tattoo artwork, apparel design, website design, advertising, marketing, digital printing, greeting cards, calligraphy, murals, and I've even written three books.
It's extremely rare for anyone to have experienced and learned such a variety of skill sets, especially in the old school days before the internet.
It's been one hell of a journey!
---
Jimmy, you will never make anything of your life because you draw in class too much.

- My fourth grade teacher
---
Despite most of my school report cards telling my parents I was failing and would never amount to anything because I was ALWAYS drawing in class, somehow I've been lucky enough to achieve success.
I've done work for clients like NASCAR, BMW, Nike Golf, Eskimo Joes, Michael Hyatt, NCAA, Arnold Palmer, HTC, Honda, and the L.A. Kings — in addition to the hundreds of companies all over the globe.
All without official training or more than a C+ level high school education.
So to those who didn't believe in me … 🖕🏼🖕🏼
---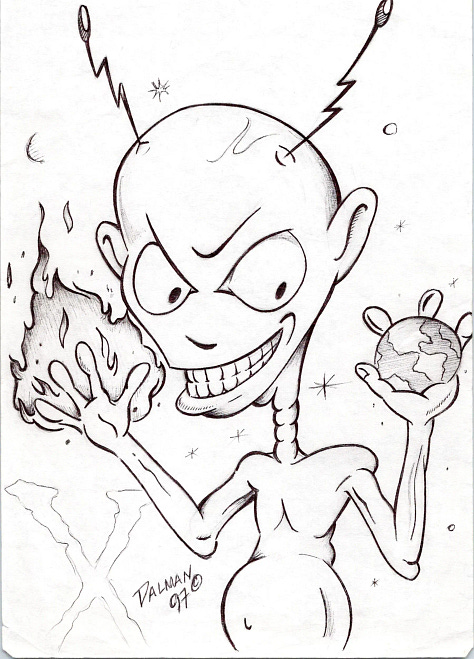 ---
As amazing as all of this has been, my heart and soul has longed to return to where it all began — custom artwork and product design.
Donetta and the kids have listened to me for years talking about my dream of creating t-shirts and other apparel. They've heard thousands of ideas for all sorts of products. Sometimes even rolling their eyes as if they were thinking, here we go again. 😜
But now it's time to make it happen. Before it's too late and I'm dead.
Today I'm announcing the relaunch of dalman designs.
---
---
dalman designs was originally started in 1986 by my parents, Jim and Tina Dalman, and they offered custom designed, modular cabinet systems.
My dad was a visionary filled with endless ideas and cool products, always ahead of his time with most of them, and extremely talented at so many unique skills. He was an artist, writer, woodworker, cabinet maker, and a pioneer. Notice a pattern?
My mother was the champion behind his crazy ideas, in addition to being an inspiration for many of the things he created. She worked hard to support his dreams while raising three kids and taking care of numerous family members.
My parents always inspired me to pursue my creativity. They allowed me to explore it with reckless abandon and supported my artistic insanity since day one.
I love and appreciate them for that so that's why I want to honor them by reclaiming the old family business name.
Only with a completely new twist!
dalman designs will be a collection of products inspired by our love of travel, life, culture, art, and nostalgia — some of which will be stuff my dad created back when I was a child. ⚒️ ❤️
And I'm really excited to have Donetta, Kayla, and Tyler involved in the business. They are all very talented as well and have great ideas to bring to the studio.
I really look forward to the future as I come full circle on my journey. It's gonna be awesome. But now it's time for me to get to work. LOL!
Please feel free to check out the start of our online store. We'll be adding a lot of new items over the next few months.
The creativity is just getting started.