Discover more from Life from the Road Magazine
A traveling lifestyle newsletter for adventurous couples, digital nomads, and modern day hippies.
The Road to Hana was EPIC!
If you're looking for a beautiful and romantic adventure, this EPIC route should be at the top of your travel list.
On our recent Maui vacation of a lifetime, James and I were able to go on an AMAZING excursion. We signed up for a tour that was a 12 hour day and we traveled "the Road to Hana" and circled almost the entire island. It was so incredible!!
But before I give the details about our experience, I must give a huge shout out to our tour guide Lenny.
He was phenomenal from the time he picked us up at our condo to the time he dropped us off that night. Lenny was born and raised in Hawaii and he was so much fun. Not only was he very knowledgeable about the island; he had lots of great adventure stories to share with us. So that alone made our this trip worth it.
The beginning of our adventure.
We started our day by heading to Ho'okipa Beach which is on the north side of the eastern half of the island. It's a beautiful area with a great view of the mountains and also lots of big waves, surfers, and sometimes even turtles.
On the way there, Lenny offered us fresh pineapple, grapes, and homemade bread. He had a few flavors to choose from and I chose banana bread and James had coconut macadamia nut. It was all delicious even though it wasn't keto friendly! 😉
An interesting thing we saw on the way there was the original king's highway that went around the island. I believe he said it was built in the 1600s so it's a very old road. You can see the rocks that built up the road in certain areas in the western part of Maui.
We saw a huge part of the island that used to be sugar cane fields, but because the burning processing of the sugar cane was making people sick, they stopped making it. Now that 48,000 acres is used to grow other crops like limes.
The bamboo forests
Our second stop on the Road to Hana was visiting a Bamboo forest. There's a trail that goes through there that apparently goes for miles. We just went a little ways in to see what it was like inside there. It was interesting because outside of the forest it was a beautiful sunny day but under all the bamboo we felt raindrops with all the condensation! There are also wild pigs in the area so Lenny carried a machete just to be safe.
One of the things that's famous on this drive are the Chinese built bridges.
We learned there are exactly 59 bridges, all built in the early 1900s. They were built so well, that they've withstood the test of time, including tsunamis and adverse weather. Another thing it's famous for are the 620 curves that you have to traverse on this journey. It's just a constant weaving back and forth going into the inlets and then back out around the mountain. It makes for very beautiful views though - especially when someone else is driving and you don't have to worry about that part. ;)
Another cool thing was we visited the place where the opening scene to Jurassic Park was filmed.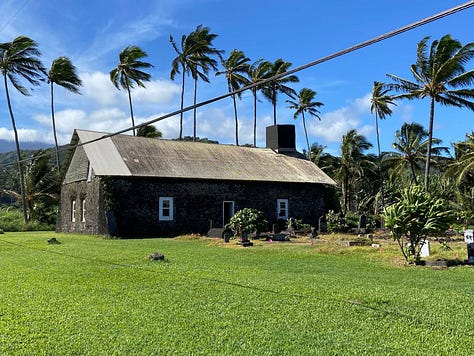 The drive around Ke'anae Peninsula
Our next stop on the Road to Hana was in Ke'anae and it was such a beautiful place!
Sadly this town was hit by a large tsunami in 1946. Twenty children and four adult perished when the 35 foot waves overtook the area. The only building that survived was the church and a few people who managed to get inside. The survivors placed a sign in front of the property that says "Victory because of Jesus our Savior" in Hawaiian; a simple reminder of the miracle for those who were saved.
This area had beautiful coastal views with lots of black rock and beautiful blue water. We enjoyed watching the waves crash into the rocks and spray white mist up into the air - which Lenny told us is what Moana means - the mist that comes from the wave hitting the rock. This spot also had great views of Haleakalā Volcano which is the large mountain on the east side of Maui and also home to Haleakalā National Park.
Pua'a Ka'a Falls
Our next leg we got to see a couple of waterfalls and more beautiful views. We stopped at Pua'a Ka'a Falls and anyone who wanted to swim for a bit was able to.
After the falls we stopped at a spot where there was a beautiful rainbow eucalyptus tree. These are some of the prettiest trees I've ever seen - the bark on the trunk peels off and exposes different colors and it's just gorgeous. All the plants and trees in the area were amazing. So much color and beauty in it all.
James and I didn't want to mess with getting changed or getting wet, so we opted to stay dry and comfy for the journey. LOL! Lenny however, took the opportunity to climb to the top of the falls and jump off the cliff!
Honokalani
The next stop was probably my favorite on the Road to Hana. We got to stop in Honokalani and spend about an hour at Black Sand Beach and it was truly incredible.
The rocks and the sand were so stinkin' cool! I really wanted some to keep but there were signs asking people not to take any so I didn't. Yes, I'm a good girl like that. Plus they were REALLY pushing the "don't take anything" request by posting that it brings bad luck and people mail the stuff back because of all the bad luck they have when they take it. I figured I wouldn't push my luck. haha!
We enjoyed walking around the cove and down to the beach and we sat and enjoyed the cool breeze and listened to the ocean for a bit. Then we explored a cave that was right next to the beach and then went on the trail on the other side of the cove and went up on top of the hill. Talk about amazing views!!
After all the exploring we went back over to the picnic area where our Lenny had a lunch of BBQ ribs waiting for us. Our group sat at a picnic table and enjoyed the amazing food while looking out over an incredible view. It was so fun!
After that we went to Koki Beach which is a red sand beach. It was beautiful and had some amazing rocks too! I wanted to take some from here too but again, I refrained. There was a little cooking shack at this beach where Gordon Ramsey used it for one of his shows, a nice fun fact.
Wailua Falls
The water falls were soooo tall and dropped way down into a little pool at the bottom. It was both scary and incredible at the same time. And there's a funny story here too.
There was a walking path to go down to the bottom of the falls but Lenny said it could be slippery. So I opted to stay up on the road since I wasn't wearing shoes that would be good for that. Well, apparently I didn't need to walk down that path to be in danger ... I fell in the middle of the street, in front of a car, because I stepped in a hole in a weird way. While my pride was hurt more than my body, there were no lasting injuries thankfully. But good grief, talk about making a memory. :D
It was still a nice stop with beautiful views though.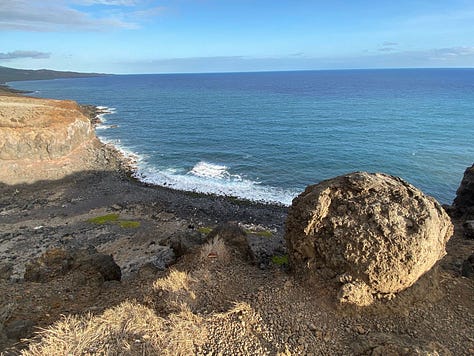 A nerve wrecking road, but we survived.
This part on the Road to Hana was also where it was very evident that it was best to be on an excursion with an experienced driver. Holy cow! Thankfully we had one.
The road was very narrow as we winded up the mountain. At one point we got behind a guy that was obviously very intimidated by the drive and terrified to move very quickly. It was tortuous and slow going for a bit.
Lenny explained how he navigates through the narrow, winding roads and after he told us what to look for and how to drive it, it made a lot of sense. However most tourists don't know these tricks so they just end up in the way and causing problems like the guy that was in front of us. LOL!
The final ride home
After we reached the final stopping point on the Road to Hana, our tour was made even more awesome because Lenny refused to take us back the same way we got there. He believed we should see everything so he drove us to the south side of Maui and completed the loop of the island.
The views were spectacular and the landscape so diverse. Once you get to a certain point it's much drier and more desert like, plus there are hundreds of wild goats all over the place, which is also scary because they run across the road while you're driving. This area was part of Haleakala National Park and it's wide open federal land. Lenny said this is not always the safest place due to a lack of law enforcement so visit cautiously.
All in all, this was one of the best days I've experienced since traveling full-time and I'm so thankful we got to do this. It was such a priceless experience, and if you ever get the opportunity to see it for yourself, I highly recommend the company we used.
Maybe you'll even get lucky enough to meet Lenny.