Discover more from Life from the Road Magazine
A traveling lifestyle newsletter for adventurous couples, digital nomads, and modern day hippies.
Are We There Yet? Three Years of Life from the Road.
It occurred to me the other day that I haven't written any updates or much of anything about travel lately. We missed sharing our three year "travel-versary" back in July and there are a dozen articles still needing to be published. 💁

Honestly, life has been weird for us the past year and it's been challenging to find a road map for our journey.
I don't know if it's the lingering fallout from the pandemic or the shit show this country has become, but we just feel very lost at times — not knowing where to go or what to do, especially as the cost of everything continues to spiral out of control!
Plus hotel living is harder to do thanks to the high prices and horrible guests.
We love the idea of hiding in the mountains away from humanity and being close to nature, but we also know being in one place for too long makes us unhappy. Donetta and I were born to explore. LOL
So we've discussed options like renting a short-term apartment, paying people to crash in their extra room, or living from our new truck.
Speaking of …
---
A few months ago we said goodbye to Belle, our 2020 Chevy Silverado. She was the biggest travel partner in our crazy adventure. We spent over 75,000 miles with her and made some incredible memories together. 🙈🙉🙊
Because I want to do more off the grid trips on BLM property or camp in National Parks, we decided to upgrade to a 2023 Chevy Trail Boss with a Z-71 off-road kit. We're looking at adding a truck cap and rooftop tent to "Max," along with outdoor lifestyle gear, so we can actually live on the road and follow the good weather.
Interestingly there are a LOT of people living in their vehicles these days and enjoying a freedom lifestyle — though some do it because housing isn't affordable and it's the only way for them to survive.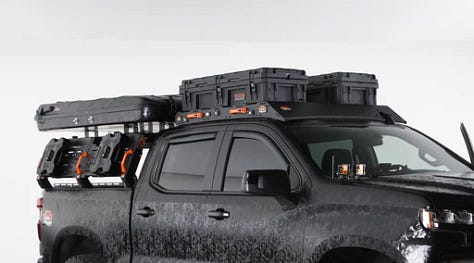 ---
There has also been discussion about whether we continue our travel blog or if we should let it go. 🤷‍♂️
We love to write about life and traveling but people don't read like they used to. Plus video seems to be where the interest is these days. Several friends have even encouraged us to focus on YouTube, so that might be where we head.
Of course we appreciate your input and feedback.
What should we do and can we do things better? Is there any interest in our adventures and would it benefit you? Be honest.
---
In other news, Donetta and I are really excited to be working on some creative projects I've been dreaming about for 30 years!
dalman designs will offer a collection of products inspired by travel, culture, and life — all of which are designed or created by our family members. We'll have paintings, canvas prints, handcrafted cards, t-shirts, and other cool decorative items for sale.
Our new online store will be ready to go in a couple of weeks so stay tuned for an announcement on that.
I'll also be relaunching Happy Joe, a freedom lifestyle brand, on Veterans Day 2023. The products will focus on freedom, military, and cannabis, with some of the profits being used to fund life-saving resources for disabled veterans.
As a freedom loving and patriotic veteran, this is my way of giving back to those who have served to protect our nation in the past, present, and future. I'm stoked about it.
---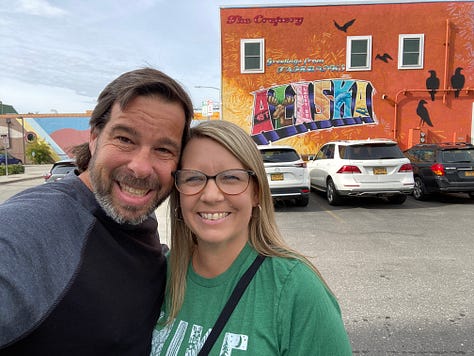 Last month we finally made it to Alaska! We've dreamed about doing this for years and it was our 50th and final state to conquer together.
Donetta spent months planning the trip and I'm so grateful for her hard work. We spent some time traveling from Fairbanks to Anchorage and got to see some friends and experienced some of the best scenery ever!
But this was not a perfect trip either.
Our final week was supposed to be spent on an Alaskan cruise, the highlight of our adventure. But as fate would have it, the ship had propulsion issues with their engine and as a result the cruise was cancelled. 😞
While we were devastated, the good news is we got our cruise fare back — along with FCC (future cruise credit) which we used to book the same cruise for next May. Royal Caribbean did their best to make it right. At least we got free booze on the ship for two days before getting booted off.
Hopefully 2024 will have the epic conclusion to the trip we originally hoped for.
---
Well … the last three years have certainly been a ride of a lifetime.
There have been some hardships and difficult challenges along the way. Even when you're living the dream it still has it's share of bad days and moments. Traveling full-time isn't perfect. Saying otherwise would be a lie.
However, we still have no regrets for choosing to sell almost everything and take the risk to explore the world around us. We love the digital nomad lifestyle and have enjoyed making priceless memories together as a couple.
Even so, there are many unknowns going forward.
I think we'll be around Oklahoma for the next several months as we work on our new products, get doctor appointments out of the way, and get rid of more stuff we left in storage. Hopefully by then we'll have new travel plans to follow.
For now I'm just truly grateful for being alive and having great health. So many people elsewhere are having very hard times and that weighs on my mind. Things could be a lot worse!
Thanks to those of you who continue to read about our crazy adventure. Stay safe and healthy.