Discover more from Life from the Road Magazine
A traveling lifestyle newsletter for adventurous couples, digital nomads, and modern day hippies.
Visiting Jerome, Arizona. A Cool Hippy Town.
It's quirky, unique, and a bit eclectic. But if you like the hippy and free love vibe, you gotta visit Jerome to get your groove on.
Do you like visiting eclectic or quirky towns in America? Then look no further than Jerome, Arizona!
We discovered this place in April 2021, after spending weeks of hanging out in Sedona and living in Arizona. Since I'm a bit weird myself, several friends recommended we check out this "hippy town" located in the hills between Flagstaff and Prescott. It was not disappointing!
Jerome was founded in 1876. It's an old mining town that was once called "The Wickedest City in the West" and was declared a National Historic Landmark in 1967. In 1953 when the mines closed, it became the largest ghost town in the west. Today it's got some serious mojo as an artistic and creative center for wayward travelers.
Visiting Jerome is an experience.
Cruising along Highway AZ-89A to Jerome from Sedona is a relaxing and beautiful drive. One of the best things about traveling is enjoying the open road, so this short trip alone will put you in chill mode. And as you begin your mile high ascent up the hillside towards Jerome, be sure to have your camera ready as you'll quickly notice some incredible breathtaking views.
The snaking road into town is small and it can a bit unnerving for people driving larger vehicles, but if you take your time and enjoy the adventure it will all be groovy in the end. It's an interesting commute that can't easily be explained. You just have to experience it.
What you will discover in Jerome, Arizona
Once you reach the city center, that's where the real magic begins.
If you're into the Old West vibe, this place is gonna light you up with excitement. There's so much history here. You'll dig Jerome State Historic Park, the Sliding Jail, Audrey Headframe Park, and many of the old buildings -- still as they were back in the day. The nostalgic feeling of this place can be intoxicating.
If your jam is more in line with wine tasting, sampling tasty edibles, or shopping for eclectic treasures, get ready to rock. Jerome offers some incredible art galleries including Raku and Mimi's. We had the honor of meeting Mimi Romberger, an incredible artist and one of the first designers for Super Mario. She was so sweet to visit with and I love her street address ... 420. ;)
At some point you might need to get your caffeine buzz on, so be sure to check out The Mine Cafe. It's got a hipster/daft-punk vibe to it and the triple shot latte proved extremely beneficial. For burgers and beers, float on over to Haunted Hamburger but leave your hammers in the car. And for shopping, we loved hanging out at the University Shack, House of Joy, and The Newstate Shops.
It doesn't stop there though!!
Walking around Jerome, Arizona is a trip all in itself. You'll discover a sex shop, a vintage apparel store, a very small but cool bookstore, more crafts than you know what do with, and the Wicked City Brew Bar to help get your happy on. There's something for everyone.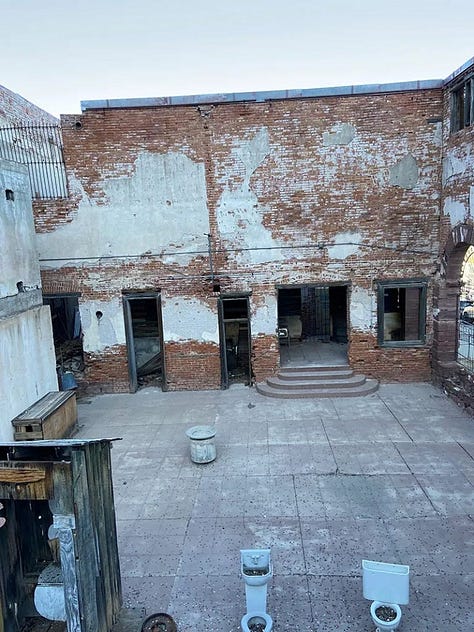 Don't take our word for it. See it for yourself.
A blog post or video can only do so much to bring you on the journey. Jerome and the people we met there have to be experienced in person. You won't "arrive" until you arrive, if you catch my drift.
I loved this place and really want to go back. One day was not enough to enjoy the hidden treasures of this unassuming town. Don't miss out on your next visit to Arizona.