Discover more from Life from the Road Magazine
A traveling lifestyle newsletter for adventurous couples, digital nomads, and modern day hippies.
Visiting the D-Day Beaches in Normandy
Visiting Normandy and the D-Day beaches was an experience I will never forget.
It has been 79 years now since the largest amphibian invasion in history took place in Europe.
On June 6, 1944, over 160,000 Allied troops stormed the beaches in Normandy to rid our world of Nazi tyranny and evil. By June 30, that number would increase to over 850,000 men and women who set foot on that hallowed ground.
The cost for freedom would be great and hopefully it will never be forgotten!
---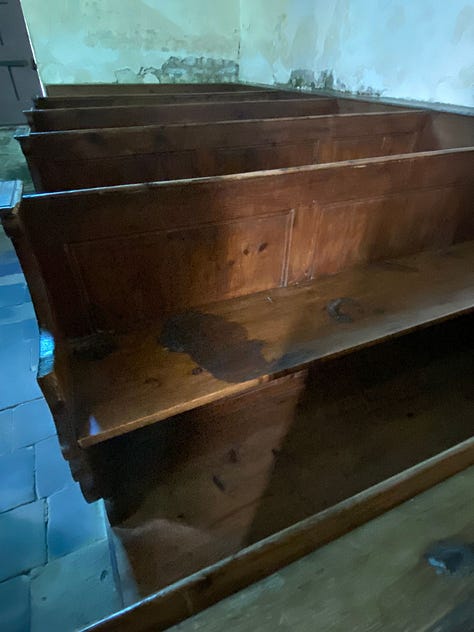 For decades I hoped to visit Normandy and the surrounding region some day. I have known men who fought on the beaches at D-Day and heard their stories of war. Being there would help me to keep their legacies alive and allow me to honor those who died for our freedom.
Then on March 28, 2023, it finally became a reality. I was standing on the sand so much blood was spilled upon. And it was surreal.
While things have changed and life has moved on the past 79 years, you can still feel the enormity of this invasion.
Of course there are the beautiful commemorative plaques, places of remembrance, and elements left from World War II, but if you know what happened here and you closed your eyes, you wouldn't need all those other things to remind you. It's that powerful of an experience.
It didn't take long for the tears to roll down my face.
When you've personally seen the pain from the WWII Veterans who were there on that infamous day, it doesn't take much more to put it all into perspective.
Watching the opening moments of Saving Private Ryan is, perhaps, the most accurate way to understand just a small glimpse of what these men endured. The emotional scars would last their entire lifetime.
I could write endlessly about World War II and what it means to me or share everything I've learned from our heroes and those who suffered. But it will never be enough because my words cannot adequately capture the gravity of it all.
Yet I can encourage you to visit the D-Day beaches of Normandy so you can try and experience it for yourself.
---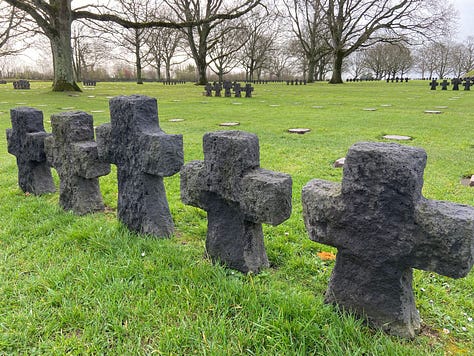 The Normandy D-Day Experience Tour from Gold Beach Company
Typically I prefer to avoid any guided tours because doing things yourself provides such a better cultural experience. Plus you always get rushed from one point to another because time is limited. You don't always get to see what you want to see.
For this experience, we wanted to avoid some of the complications and make life easier since we only had a few days in Bayeaux, France. Not to mention rental cars were stupidly expensive. So we went to Trip Advisor and found an all day tour from Gold Beach Company.
It was well worth it.
First we visited La Cambe German War Cemetery which was very emotional. Many Germans were dumped into mass graves and forgotten. Many of these men did not want to fight and continue the war, but they had no choice. They and their loved ones would be executed for refusing to do so.
I don't think we should forget the horrors of WWII affected people on all sides.
Our next stops included visiting the church in Angoville-au-Plain, Sainte-Mere-Eglise, and Brécourt Manor – all very important in the history of the D-Day invasion and 1o1st Airborne Division.
From there the tour took us to the coastal line and Pointe Du Hoc, the famous site where the U.S. Army Rangers, the Second Ranger Battalion respectively, scaled the "impossible" 100 foot cliffs to attack and defeat the Germans.
The area is overwhelmingly filled with bunkers and bomb craters. And I wanted to explore them all!
Thankfully we arrived at the Pointe Du Hoc memorial when we did because now many of the areas are closed or limited due to erosion and safety concerns.
Our Normandy D-Day tour ended with stops at Utah Beach, Omaha Beach, and finally the Normandy American Cemetery where 9,387 of our troops are laid to rest and honored daily. Each of these locations presented priceless memories and experiences.
I'm writing about each of these places individually, but collectively the day was absolutely touching and incredible.
However, one of the aspects that made this tour even more special was our guide, Sophie. A French woman with a sincere passion for history and WWII, she went above and beyond by taking our crew to places based on my requests.
Not only that, because Sophie learned about my own family history with the war and my passion for the subject, she got me into a special bunker very few people will ever get to see. WOW!!! I am so thankful.
If you head over to visit any of the sites from D-Day, I highly recommend taking this Normandy full day experience with Gold Beach Company. You won't regret it.