Discover more from Life from the Road Magazine
A traveling lifestyle newsletter for adventurous couples, digital nomads, and modern day hippies.
Visiting the USAF Air Museum
One of the most incredible places to see historic aircraft from all eras. But be ready to spend the entire day there.
It's no secret that I love WWII history and historic aircraft, sometimes to the point it almost becomes an obsession. My recent visits to Pima Air and Space Museum and March Field Air Museum are proof of that! So when we had the opportunity to check out the USAF Air Museum in April, I just had to jump all over it.
USAF Air Museum. What you should know.
The National Museum of the United States Air Force graces the property of Wright-Patterson Air Force Base near Dayton, Ohio. It's one of the largest aircraft museums I've ever set foot in and an amazing display inside and outside.
Walking up to the humongous buildings you will notice some aircraft in addition to beautiful grounds honoring the sacrifices of those who served. There's a small trail of memorials and displays to reflect upon if you have the time. But because of my excitement I admit I glazed over this for the incredible collection inside.
The priceless displays are overwhelming.
The USAF Air Museum provides SO MUCH history that it's a bit overwhelming to take in. This certainly isn't a bad thing by any means. It was just that I wasn't prepared for what was ahead.
There are more than 360 aircraft and missiles displayed at the National USAF Air Museum.
Because Donetta and I had been at WWII Veteran Jim Martin's 100th birthday bash several days, we were exhausted. This forced us to move more quickly through the museum -- and this was a mistake! If you want to truly enjoy all the offerings, I recommend you plan an entire day or two to take it all in. We didn't make it through the entire place so we will have to go back.
And wear good, comfortable shoes.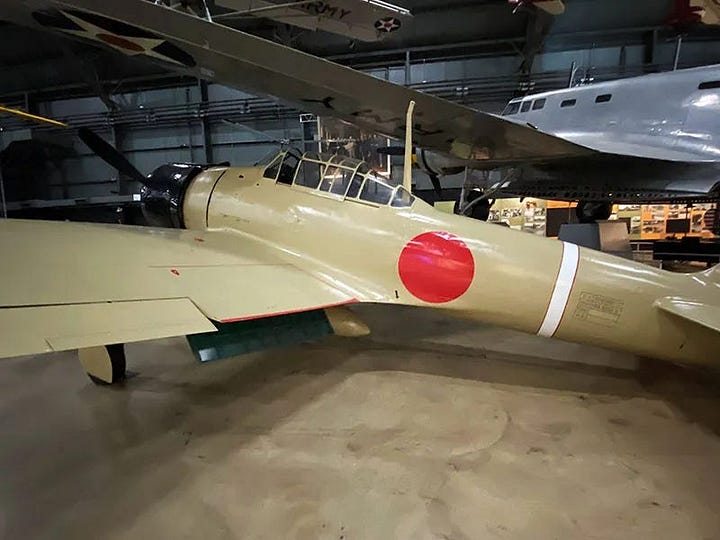 The WWII aircraft were amazing to see and experience.
There is no possible way to include all the photos and memories in my USAF Air Museum review. Nor could my words do any justice to the brilliant displays of history you will encounter. The staff, volunteers, and donors should all be commended for what they've completed within this space.
If you are interested in WWII aircraft, there will be no disappointment.
My favorite displays were the famous Memphis Belle (B-17 Fortress), Bockscar (B-29 Superfortress), P-38L Lightning, Messerschmidt BF-109, Messerschmitt Me 163B, Messerschmitt Me 262A, Focke-Wulf Fw 190D-9, Mitsubishi A62M Zero, Yokosuka MXY7-K1 Ohka Trainer, and Supermarine Spitfire Mk.Vc. Some of these aircraft are rare to see and doing so is always a treat.
It doesn't end there as there are plenty of other well known WWII fighters, bombers, and transports available.
Korean War to modern day as well.
For those of you who love Air Force jets or space rockets, don't worry. The USAF Air Museum will delight your interests with an array of aircraft and displays as well including a North American F-86A Sabre, Mikoyan-Gurevich MiG-15,  Lockheed SR-71A, Boeing WB-50D Superfortress, Thunderbirds F-16A Fighting Falcon, and A-10A Thunderbolt II are present.
To infinity and beyond.
The USAF Air Museum also has a complete hangar for space lovers and wannabe explorers. It includes the Apollo 15 Command Module, Mercury spacecraft, and The Space Shuttle Exhibit. This section includes exhibits with space suits to satellites.
Exhibits and other displays galore.
Due to limited time and energy, we didn't spend much time going through anything but the WWII displays. But the museum has thousands of pieces of memorabilia to peruse. There are engines, weapons, rockets, service flags and pins, and even the well known Air Force Orange County Chopper. It's quite endless.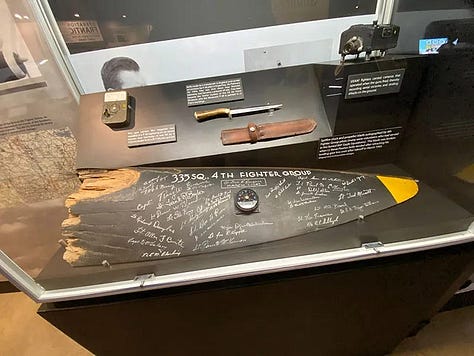 Should You Visit the National USAF Museum?
A resounding YES!!! You will be hard pressed to find anything like this and whether you love aircraft or not, this is a place you will want to see if you're in Dayton, Ohio.
I wish we had more time there but I'm so thankful for the time we did have at the USAF Air Museum. You can learn more by visiting their website.